Yoga Teaching Training Course
with Yoga Healing Institute
The Yoga Healing Healing Institute 200 Hour Yoga Teaching Training Course is a Blended Training Course which combines online learning and in person training of continual assessment with a final teaching exam at the end of the course.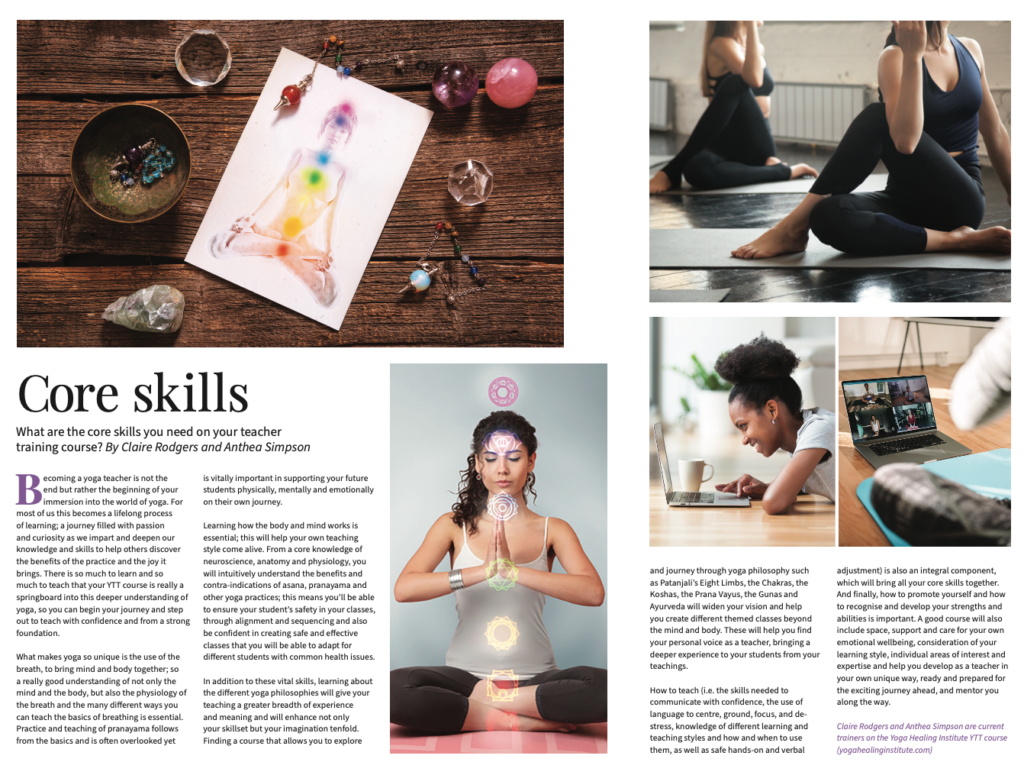 Minimal Requirements:
A minimum of 2 years yoga practice is required to join the course.
Course Size:
The Yoga Healing Institute ensure high training skills and standards by keeping their trainings capped to no more than 12 teacher trainees.
Application Process:
Applications are welcomed via email: training@yogahealingglasgow.com stating your length of yoga experience, style of preferred yoga practice and why you would like to apply. We will then arrange an informal chat through a pre-arranged zoom call with one of the Senior Yoga Teacher Trainers.
Successful Confirmation:
We will let you know within 3 days if you have been successful and confirmation will be emailed to you on receipt of your course payment*.
Course Duration:
One Weekend a Month over 12 months
Course Times:
Fridays 6pm – 9pm
Saturdays 9am – 4pm
Sunday 9am – 4pm
In Person Training Location: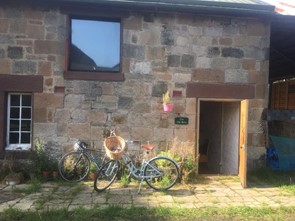 Yoga Barn
Dumbreck Stables
82 Dumbreck Road
Pollock Park
Glasgow G414SN
Blended Learning:
To lessen travel time and support students from further a field we are delighted to offer a supportive blend of online and in person training. All online as well as in person training are interactive and live, but if you are unable to not make any of the dates we are flexible in supporting you in making up your training. If there are any dates below that are difficult for you to attend at this time please email training@yogahealingglasgow.com to let us know so that we can discuss how we can work with you around this and support you towards your certification.*
Online – at Home
In Person – at The Yoga Barn
Anatomy and Physiology of Hatha Yoga and its relevance to teaching asana and breath, as well as recent developments in anatomy knowledge and how to apply this to teaching individual students and to a variety of common health issues to promote health, healing and well-being.
Philosophy of Hatha Yoga, including the eightfold path, the Yoga Sutras of Patanjali, The Chakra system, the Koshas, and how we can use yogic philosophy both in teaching students and in applying to our day to day life and our own healing and development.
Health and Safety
How to safely teach asana, pranayama, relaxation and meditation as well as how to develop, design and intelligently sequence Hatha yoga classes.
Teaching skills, such as:
The use of language to centre, ground, focus, and destress. Learning and teaching styles and how and when to use them.
Working with students with a range of abilities, experience and common health is-sues. Safe hands on adjustment and verbal adjustment.
The range of variations, benefits and contra-indications for postures and their use for a range of common health issues and different abilities.
Designing and developing
of classes and courses
Advertising and promoting
your classes and your yoga business.
Reading List
There are a number of books that are recommended to deepen your knowledge and training. Please email us if you would like the reading list sent across to you training@yogahealinginstiutue.com
Training Literature
You will receive your course literature via PDF after each module and we recommend you take notes throughout the training seminars. As part of your homework you will compile your written notes together with your training literature to support you on your learning journey.
Learning Style and Homework
The course will include a variety of learning methods and experiences including lectures, paired and group discussion, practise of all aspects of Hatha yoga, home practise, class attendance, and journaling.
Each module acts as building blocks, layering your knowledge and understanding to deepen your knowledge and develop your skills as a yoga teacher.
To fully support your journey and learning homework will be given at the end of Modules 1-10.
It will include things like reading, class preparation, sequencing, yoga philosophy, anatomy and physiology and will be marked and given back at the start of the next module.
Over Module 11 you will have the space for preparation of your final assessment.
Final Assessment
On the final weekend of the course you will teach your own 60 minute yoga classes, bringing all your learned skills together in a classical Hatha Yoga class. The style, sequencing and level will be informed by your thorough knowledge you have received within the course and it will be of your personal preference of which style you wish to teach.
1-2-1 Mentoring
You will receive three 1-2-1 Mentoring Sessions with your assigned Senior Teacher each 60 minutes in duration and arranged by appointment. The first Mentoring will take place before the course commences, with the 2nd and 3rd session as and when you need it. Ideally you will want to have had your 2nd Mentoring session by the middle of the course with your final one anything between Module 10-12.
*Payments
A minimum deposit of £600 is required to confirm your position on the course with two options of payments available.
1st Payment Option
Full Payment of £2,450
2nd Payment Option
Deposit of £600 to confirm your position on the course
12 monthly payments of £187.50
Additional Investments
Travel, accommodation, recommended books and food are not included on any of The Yoga Healing Institute's Trainings.
Failed Payments
The Yoga Healing Institute reserve the right to refuse a place to a student who has not paid their deposit or full fees by the required dates above.
The Yoga Healing Institute Yoga Teacher Training Certificate will not be issued if you have not paid your training fees or any other training payments before graduation where applicable.
Code of Conduct
Attendance and participation at all sessions is mandatory for certification*
Be respectful of each other

Be mindful of balance of sharing through listening and speaking

Be responsible with your peers in creating a peaceful learning space
Participate in every learning session but inform us if you are not feeling well
Breaks appointed at the start of each training day
Bathroom breaks – quietly leave studio when needed.
No mobiles are to be used throughout training sessions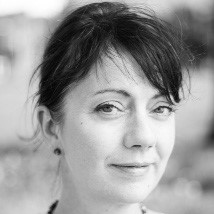 Claire Rogers
Claire has a background in Clinical Psychology and has been teaching yoga for over 15 year. She is also an author, a yoga therapist and Reiki Practitioner and Senior Yoga Trainer with the Yoga Healing Institute as well as Mental Health Tutor with the Scottish School of Yoga Therapy
Anthea Simpson
Anthea has a background in Bodywork, Anatomy and Physiology and has been teaching yoga for over 15 years. She is founding teaching of Yoga Healing Glasgow and The Institute. a massage therapist, aromatherapist, reflexologist and Reiki Practitioner and Senior Yoga Trainer with The Yoga Healing Institute.
Recent Graduate Reviews
Some of our previous Yoga Teacher Trainees who have walked the journey with us sharing their reviews below: 
Get in Touch
Do not hesitate to download our Terms and Conditions and should you have any questions or queries or would like to arrange a Welcome Call with us please do not hesitate to email us at training@yogahealingglasgow.com
We look forward to welcoming you into our school and look forward to hearing from you.
Namaste,
Claire & Anthea